Oh to be filthy rich like the TOMKAT'S of the world!  If we were, we would fly to Paris, meet up with our good friend VICTORIA BECKHAM, go to a few fashion shows and view the collections and end the day with a tres bon dejeuner at a French brasserie.  After lunch we would drop over $11,000 (American!) on pretty dresses for baby SURI at the fabulous baby couture store BAGHERE (www.baghere.com).  According to US WEEKLY, that's just what MRS.TOM CRUISE did.  Not every mommy can afford haute couture baby clothes.  After a little searching at  the GAP and OLD NAVY, we found some baby clothes that will help your little bubba pull off that chic French look, for a lot less.
Looking for a sweet little coat?  The one above comes from BAGHERE, and the one below is from THE GAP and only costs $44.50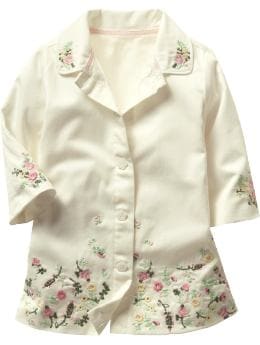 To copy the gorgeous floral jumper and chapeau up top from BAGHERE, OLD NAVY has a similar and more affordable option.  You see?  You don't need TOM and KATIE'S millions to dress your baby like a movie star.